Fuel System Cleaning Service
Get More Out Of Every Mile.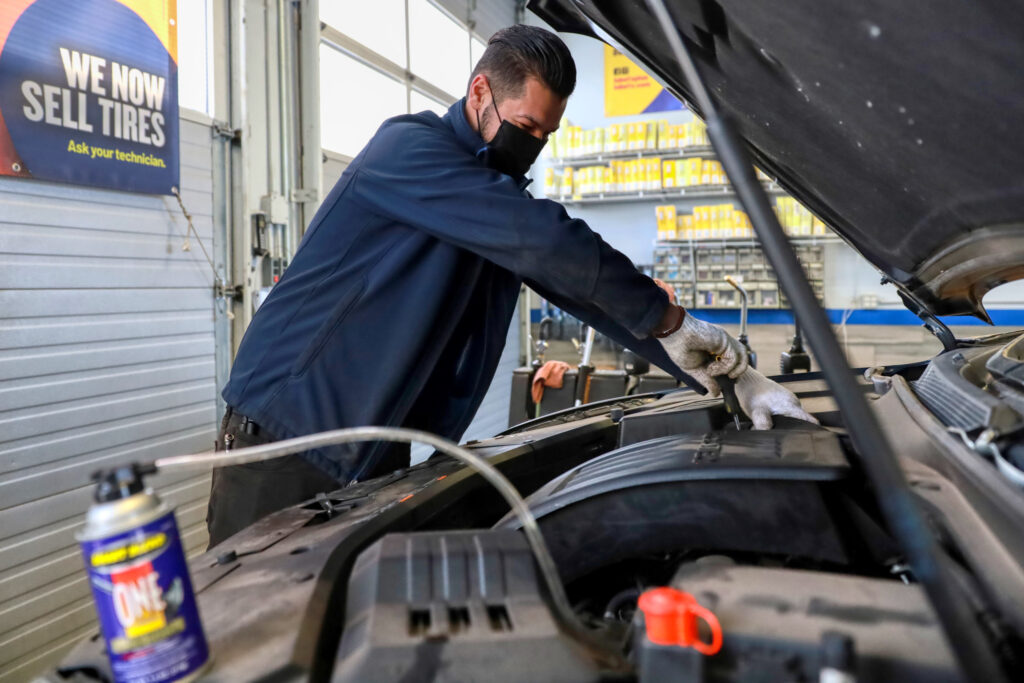 Fuel System Cleaning Service
Better fuel  system cleaning  helps you get more out of every dollar your spend on your gas mileage. Overall, driving may cause your fuel injectors to get clogged with excess deposits causing reduced fuel economy, loss of power, and a decrease in acceleration. Cleaning your fuel system will remove Clogged air and debris build up in and around your fuel injectors, helping restore your vehicles' optimal fuel economy and performance.
Here at LubeFx+,  we are trained to use the most effective service methods to help revive your vehicle's fuel economy, reseting it back to factory settings. We recommend a fuel system cleaning service at an interval of 24,000kms.
A Fuel System Service can clean and unclog accumulated carbon deposits and other fuel residues from the fuel injection and other components. Your vehicle's fuel system must be maintained to perform efficiently and keep emissions low. 
The fuel filter is in charge of keeping your gas tank protected from unwanted residue and contaminants from entering and interrupting your fuel system as your drive. Suppose your vehicle's fuel filter has been overused or rusted. In that case, this can cause dirty particles to enter your fuel injectors, resulting in an overall decrease in drivability if you are experiencing poor quality in engine start-ups, a reduction in fuel economy, abnormal idling, and poor acceleration. 
Our Friendly technicians are highly trained at inspecting and assessing your fuel filter's condition & performance.
Fuel and air intake system is inspected.
The air intake system and combustion chambers are thoroughly cleaned.
The Fuel System Cleaner removes harmful deposits safely and effectively from the entire fuel system.
Our Fuel Service Cleaning Includes:
 Cleaning deposits from fuel injectors
 Clear intake valves of deposit buildup
 Remove hard-to-remove deposits from the combustion chamber
 Clear deposits from the air intake (including throttle body and intake manifold)
Do You Need Fuel System Service?
Your vehicle needs routine services, such as oil changes, tune-ups, and other services to keep the engine running correctly and avoid a breakdown. Your vehicle's fuel system is a critical component that must be maintained regularly. Getting the fuel system cleaned can help prevent serious issues down the road. Proper maintenance of your fuel system helps to catch common problems that can degrade components and cause them to stop working or lead to clogging that prevents the system from operating correctly. You may need fuel system service if you notice:
 Reduced fuel economy
 Rough idling
 Hesitation when accelerating
 Engine knocking
 A sticking throttle pedal
 Cold-start problems
 Failed emission testing
Get Fuel System Repair & Maintenance Services Near You
Fuel system service can keep your engine running smoothly and efficiently. Our mechanics can advise you on how often you should service your fuel system. When you're ready to clean your fuel system from the inside out, Lubefx+ can restore your fuel system. No appointment needed at LubeFX+ in Edmonton, AB. We look forward to serving you and your vehicle! 
Save Money On Your Next Service. Get Coupons Online
We make Car Maintenance a breeze. We Offer Financing On Any Major Maintenance Service &/or Tires
Get Equal Payment Plans or No Payment Plans at 0% Interest Free for up to 18 months! Ask Us How Today.